Christ Church Dalbeattie is a Scottish Episcopalian church SEC website and belongs to the United Diocese of Glasgow and Galloway UDGG website .  The Scottish Episcopal Church is a member of the Anglican Communion of Churches and sister church to the Church of England CoE website.  The SEC has recently recently produced a new Welcome video.
If you are visiting Scotland or have recently moved to the area and you normally worship in an Anglican church in England, Wales or Ireland you will find the Episcopalian style of worship to be the most similar and familiar to your usual services at home.
Weekly Services
All details of our weekly services appear on the Worship page of this website.  Occasional special services will be included on the What's On page.  You are most welcome to join us for any of our services.  Being part of a community set in the popular holiday area of Dumfries & Galloway we do like to have visitors and always serve coffee after morning worship as part of our welcome and outreach.
Welcome to our new Rector, Christopher
We welcome the Reverend Christopher Ketley and his wife Jane as our new Rector to Christ ChurchDalbeattie and St Ninians, Castle Douglas.
Just as we welcome our new full-time Rector, Christopher on 3rd October, we are also saying farewell to two of our part-time NSM ministers Beryl Scott and Mark Smith.
Thank you Beryl . . .
The Reverend Beryl Scott is 'retiring' from her regular Sunday and Thursday commitments with Christ Church after many years' service among us. We thank her for all she has given to us in so many ways.
This month's message from Christopher
A story!
I know a monk, who, because of many temptations said, I will go away from here. As he laced his sandals, he saw another monk also lacing up his sandals, and this other said to him, 'Is it on my account that you are going? Because I go before you wherever you walk'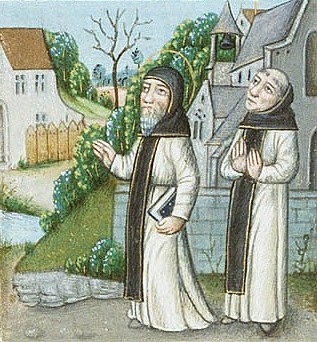 [1]
November is one of those months that is difficult: There is All Souls Day (when we remember the loved ones we have lost); Remembrance Sunday (when we recall those who have lost their lives in two World Wars and the conflicts of the 20th& 21stCentury); the pressure of Christmas is approaching; and to cap it all the darkness of the nights continues to deepen! We might, very much, feel like the monk and want to run away… far away.
Wait! Mother Theodora has wisdom. She realised that wherever we run to, we will take our problems with us, for the other monk represents our other self. The self that gets things wrong, makes mistakes, and perhaps even gets angry. In other words, the side of us that annoys us!
We need to find 'Stillness' in our lives. To achieve this we need to detach ourselves from material things, and from the pursuit of our passions and desires. Only then will we find the 'Stillness' that comes from God. In 'Stillness' we are able to find God within us. He is deep in our heart, our Soul. If we stand still: Take deep controlled breaths. We will find "the peace of God that passes all understanding."[2]In the Stillness we will find Silence, and in the 'Silence', there waits God. I wonder how many have said they have never met with God? Is it because they have never been still?
We should be like an astute business person: making Stillness our criteria for testing the value of everything, and always choosing what contributes to it.
If you stand on the banks of Carlingwark Loch notice how still the Heron stands. Whether the water is flowing fast or slow he is like a statue. Waiting. Waiting. For the moment when he will use his energy and skill to gain his prize. This is how we should be as we approach this forthcoming season. We should adopt the Stillness of the Heron. The waters of life maybe turbulent and the memories of this season painful. Yet, by finding God in the Stillness, and being still. All will be well.
We will know our goal, and we will achieve it! We will not need to run away, only to discover ourselves there too!
This is why the Psalmist writes:
"Be still, and know that I am God.[3]"
In achieving this Stillness we will discover another charism of God – Humility as Mother Theodora said. How that changes our attitude towards each other! Another gift that the people of this world desperately need.
May God walk with you, and Bless you during this dark season of memory, and business.With love in Christ.
Christopher Ketley
Rector of Christ Church, Dalbeattie & St. Ninian's, Castle Douglas
(Scottish Episcopal Church)
[1]Mother Theodora of Egypt (340-c. 410)
[2]Philippians 4:7
[3]Psalm 46:10
Are you in need of prayer?

 
Whether it be a personal issue or a concern for another person or situation, or even a desire to get closer to God, the Ministry of Laying-On-Of-Hands gives an opportunity to open up to God.
We offer it in faith that God wants to work in people's lives and wants to use us as His channels. Sometimes it brings healing, sometimes empowerment, sometimes wisdom – always it opens us to God's Love, Mercy and Grace.
The Priest simply places a hand on someone's head and prays for God to bless them, acting as a channel for God's Love, Mercy and Grace.
We now offer this Ministry during Communion – just carry your Pew Sheet with you to the rail and the Priest will ask your name and pray for you before administering Communion.
How to find us
Christ Church stands at the junction of High Street and Blair Street,
Dalbeattie, Dumfries and Galloway, DG5 4DT
Click here to see us on   google maps 
Enquiries

 
In the first instance, all enquiries should go to our Rector, The Reverend Christopher Ketley.
Phone:       01556 505894/07932 183 069
Christ Church Scottish Episcopal Church Dalbeattie is a registered Scottish Charity. Charity Number SC010918